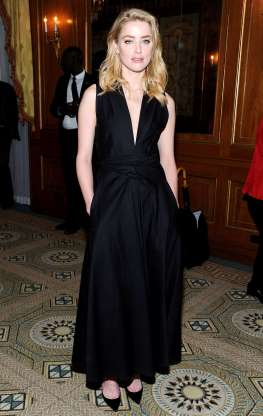 As Amber Heard returns to the big screen this weekend in "London Fields,"
she's focused on the future — even though the film speaks to her recent past.
Featuring Amber as a clairvoyant who gets involved with three men, one of whom
she knows will eventually try to kill her, the movie was shot five years ago but
lawsuits between the producers and director, among other problems,
kept it from being released until now. At one point, the producers sued Amber
— a move she responded to by filing a counter suit over the fact that their decision
to use a body double violated the terms of her initial deal with regard to onscreen nudity.
Speaking to the Associated Press this week, the actress said,
"it's very important for a female actress or any woman to be able to exercise her own
control over her own body and her image," adding, "I'm glad that the version of the
movie being released is supposedly respectful … with regards specifically to nudity and my nudity agreement."
She then assured the reporter that "those issues are in the past." When Amber first began shooting
"London Fields," she and Johnny Depp were newlyweds.
The two ultimately divorced amid claims
he abused her emotionally and physically.
Asked to reflect on her own experiences over the past few years with regard to the #MeToo movement,Amber, who visited Switzerland earlier this week to speak at the U.N.about gender equality and equal rights for the LGBQT community said: "I am very happy that I have moved on with my life and keep moving on with my life. I just keep wanting to do with my life that which makes it better for other people and myself. And doing the right thing and moving forward and dedicating yourself to justice, truth, to doing what's right and helping others when you can — that's everything to me. That's all I'm interested in."