Uncategorized
Just because you can, doesn't mean you should: Big Little Lies whimpers out
This article contains spoilers for the finale of Big Little Lies season two.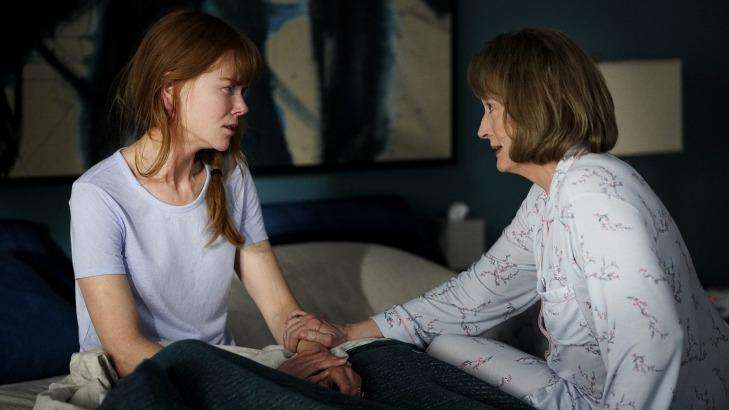 You can have too much of a good thing. It's true of cake. It's even truer of wine. But it's especially true of a TV series such as Big Little Lies.
The finale of season two has just aired and, just like the rest of the series, has sadly proven to be an exercise in ego and OTT theatrics, more suited to daytime soap opera than a primetime drama spearheaded by Hollywood heavyweights.
Not since Tom Cruise famously made Jack Nicholson break down and shout: "You can't handle the truth!" in the 1992 movie A Few Good Men's courtroom showdown, has a screen legal stoush felt so utterly contrived. Except here, instead of Nicholson in the hot seat, we had Meryl Streep confessing she had killed her own son in a car accident after losing her temper. And not even the sure-handed Streep could make these courtroom theatrics feel remotely plausible.
Frankly, it was the kind of predictable ending one expected in those ancient Perry Mason TV episodes, not a modern series like Big Little Lies. Unfortunately, it felt as though the scriptwriters were rushing to tie up all the loose ends in a neat little bow rather than giving viewers something thought-provoking or unexpected.
And so we were also treated to rape victim Jane (Shailene Woodley) finding happiness in the arms of her new young boyfriend, Bonnie (Zoe Kravitz) getting closure with her abusive mother, Renata (Laura Dern) wreaking havoc with her cheating, scumbag husband's beloved train set, and Madeline (Reese Witherspoon) renewing her vows on the beach at sunset.
Talk about a steady stream of clichés!
It would have been far better if producers Witherspoon and Kidman had refused to bow to pressure from fans – and HBO studio execs hungry to cash in on their huge hit – and just left things on a high note after the first series aired in 2017. The same could be said for Desperate Housewives, Heroes and True Detective, which all served up disappointing follow-ups to their triumphant first seasons.
The chief problem with Big Little Lies is it took a self-contained story based on Australian author Lianne Moriarty's best-selling novel and tried to expand it into something more.
I honestly wanted to love this. I wanted to support a project spearheaded by women so frustrated by the lack of interesting roles offered to older actresses in Hollywood that they decided to write the narrative themselves. But it just didn't live up to the promise of what was undoubtedly ground-breaking television in the first season. Produced by and starring A List actresses Reese Witherspoon and Nicole Kidman, Big Little Lies looked and felt like a movie.
It garnered a slew of awards and proved that TV was no longer the lesser medium to film. It also proved Kidman (who I had long felt was overrated) could really act because, wow, she really nailed it as battered wife Celeste. Sadly, the second season of Big Little Lies has fallen victim to the same problem faced by the finale of Game of Thrones. Like Big Little Lies, Game of Thrones was based on a book. When scriptwriters ran out of source material and tried their hand at taking over the story themselves, the results were more like fan fiction than the real deal.
Thankfully HBO president Casey Bloys has said that season two of Big Little Lies will be the end of the road for the Monterey Five, because the cast are among the busiest actresses in Hollywood and are unlikely to be available for another round.A better reason would be that just because you can do something doesn't mean you should.