Charles Dickens' classic gets a new twist.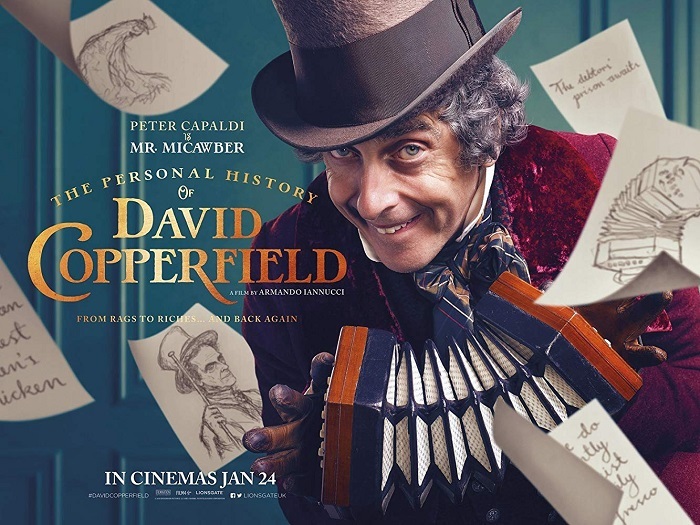 Armando Iannucci
ActorsDev Patel, High Laurie, Peter Capaldi, Tilda Swinton
GenreComedy, Drama
Running Time119 mins
Release DateFriday 24th January 2020
An adaption of the popular Charles Dicken's novel, it follows David Copperfield's (Dev Patel) life from childhood through to middle age as he deals with the many challenges that are thrown at him. Along the way, he meets many colourful characters, each one possessing a name more droll than the last.
I have to confess that I have never understood the appeal of the autobiographical novel, especially since Laurence Sterne so effectively satirised the genre 100 years before 'David Copperfield' was written. I also don't care for Dickens as I find his mawkish sentimentality too saccharine for my tastes. But Armando Iannucci's adaptation is a perfectly fine film even if it does transpose most of the flaws of the source material.
Things start badly as the opening scenes set out to look like another BBC TV adaptation. A style so effectively mocked in 'A Cock and Bull Story' (Look, I just really like 'Tristram Shandy', OK?). But it soon finds better pacing and sets itself out a little. There are some really inventive ways to move between scenes. Annoyingly though, these interconnections just stop after the first half-hour or so.
The script does well to condense a lot of narratives and characters but still tries to fit too much in. This means that the latter part of the film has to run at breakneck speed to draw its conclusion, leaving characters and arcs badly handled. Dora (Morfydd Clark), in particular, is just left to see herself out in a particularly jarring scene.
I also feel it is very telling that the politics of the novel are utterly jettisoned. Although not as explicit in social questions of the time as Dickens' other works, it still contains it. Karl Marx didn't revere him as the greatest "truth-teller" on politics of his age for nothing. Bar tokenistic background references, the absences speak volumes. A very troubling ideological furtherment from Iannucci who is meant to be a satirist but appears to just spout platitudes of those he used to mock.
We get many of the faces you've come to expect from the whimsy mines of English comedy. They all give the calibre of performance you expect as well, no more and no less. As per usual, Benedict Wong steals every scene he is in. Aneurin Barnard's Byronesque turn as Steerforth and Morfydd Clark stand out a little better for me because I've not seen them too much. Though really it is Dev Patel's film and he does strike the perfect balance of knowing when to lead a scene and when to follow, an essential skill when you have so much talent on show.
It is a bright, snappy and colourful film, so those looking for some light merriment that doesn't outstay it's welcome, you'll get your money's worth. But for me, it very much feels like the sort of film you have on TV over Christmas when you are one Baileys away from educing cardiac arrhythmia. Yea, it is hard to take offence but will barely be recalled the next day.