Celebrity News
Meghan Markle's Ex-Husband Trevor Engelson Ties The Knot Days After She Welcomes Baby Archie
Meghan Markle's first husband, Trevor Engelson, tied the knot this past weekend, just five days after his ex gave birth to her son, Archie, and eight days before Prince Harry and Meghan celebrate their first anniversary. Engelson married 31-year-old heiress Tracey Kurland at the Rosewood Miramar Beach Resort in Montecito, California, on May 11th.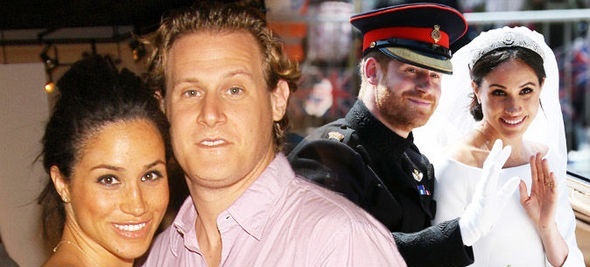 Engelson announced his engagement last June on his private Instagram account – just two weeks after Harry and Meghan said "I do" – with a pic of Kurland's diamond engagement ring.
Meghan Markle's ex Trevor Engelson is hoisted for the hora at wedding  @MailOnline

— @Allan (@Allan78727186) May 12, 2019
Kurland is the daughter of Stanford Kurland, a businessman who made millions as an exec at Countrywide writing risky loans that contributed to the 2008 housing crash. A few years later, he made even more money when he bought back the loans from the government for pennies on the dollar.
According to OK! Magazine, Markle and Engelson got married on September 10, 2011, in Jamaica after seven years of dating, but they were only married for 18 months when they called it quits. A judge granted them a no-fault divorce in August 2013.
A royal biographer claims that Markle ghosted Engelson and mailed her rings back to him after she left.
After he divorced the Suits actress, the filmmaker dated Real Housewives of New York City star Bethenny Frankel before starting his relationship with Kurland.
Cameras spotted Engelson and Kurland together during their wedding rehearsal on Friday, with the 42-year-old wearing a pastel pink suit and his bride dressed in a white lace dress. Family and friends were on hand for the rehearsal dinner, and members of the wedding party took pictures with the bride outside of the hotel the day before the ceremony.
Meghan Markle's Ex-Husband Trevor Engelson Ties the Knot in California: Reports

— Julia Hatton (@Findsuitablejob) May 12, 2019
"The aesthetic was so them. Trevor wore a pink suit and loafers, and Tracey looked stunning in a two-piece gown," says an insider. "She wore her hair in loose waves and rocked an adorable black-and-white polka dot bow."
For the wedding, Engelson wore a traditional black tuxedo and Kurland wore a lace off-the-shoulder gown.
The source says that Trevor Engelson and Kurland wanted their wedding weekend to be "laid back and comfortable," and they also wanted their personalities to shine. The couple apparently thought of every detail, and they were all about their guests having a good time.