But will they get one?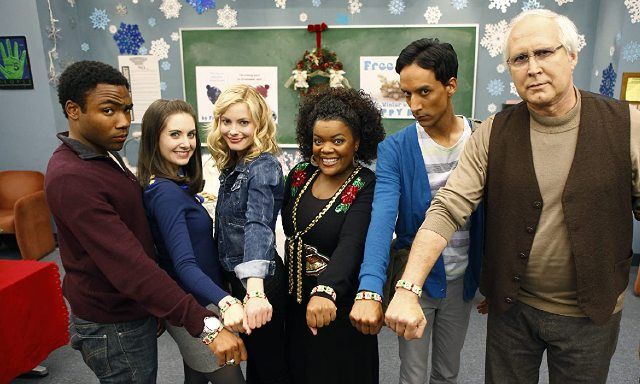 Time for some good news and some bad news about the possibility of a 'Community' movie arriving in the future.
The good news is that the cast of 'Community' are up for it. 100%. In a recent table read, the cast and crew of the comedy series said they wanted to return to their characters for a future 'Community' movie, if creator Dan Harmon were up for the challenge.
Donald Glover, who plays loveable jock Troy Barnes in the series, was known to have been the cast's biggest cause for concern if a movie was every suggested. Due to his popular music career, where he dons the pseudonym of Childish Gambino, co-star Joel McHale previously stated that his whirlwind career would mean he might not be available to shoot. However, Glover reminisced during the table read, saying: "We had so much fun and now I'm like, 'I want to watch this show again, like it was brand new'."
Gathering to read the season five episode entitled 'Cooperative Polygraphy,' the cast, including Donald Glover, Joel McHale, Alison Brie, Ken Jeong, Gillian Jacobs, and Yvette Nicole Brown (minus Chevy Chase), conducted the table read, as well as talking about hilarious highlights from working together on set.
And now, the bad news. If the 'Community' movie does move along in the process and comes to light, it's likely that we'll have to wait a very long time for that future masterpiece to arrive on cinema/Netflix screens due to the situation at hand right now. The six series of the comedy show were recently added to Netflix, allowing viewers who may have missed it the first time around to enjoy the madness that the sitcom has been known for.
Writer Dan Harmon hasn't yet started work on a 'Community' movie if it were to be made but said that rewatching the series recently has caused "waves come over" him, sparking how much fun he and the cast had while shooting. Joe Russo previously stated that he would be up for making a movie with the original cast too, so an announcement regarding the possibility must be around the corner.
Here's the 'Community' table read if you're looking to pass 40 minutes.