June – 2020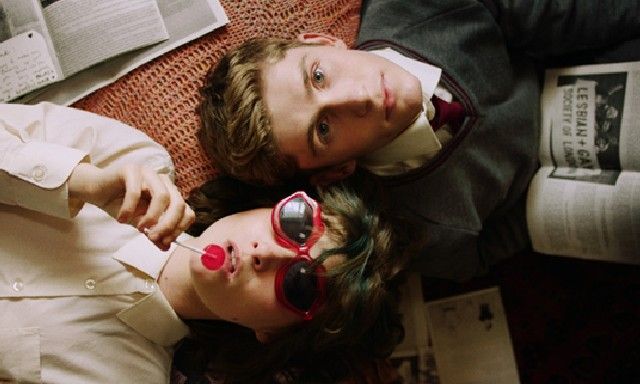 DATING AMBER | 04/06/2020
Set in Ireland during the mid-90s, Eddie and Amber decide to stage a relationship in order to stop everyone speculating about their sexuality. Eddie is keen to follow his Dad into the military, while Amber dreams of moving to the liberal hub of London. However, their 'ideal' arrangement begins to fall apart, forcing Eddie deeper into denial as Amber realises that a perilous future awaits her best friend unless she intervenes.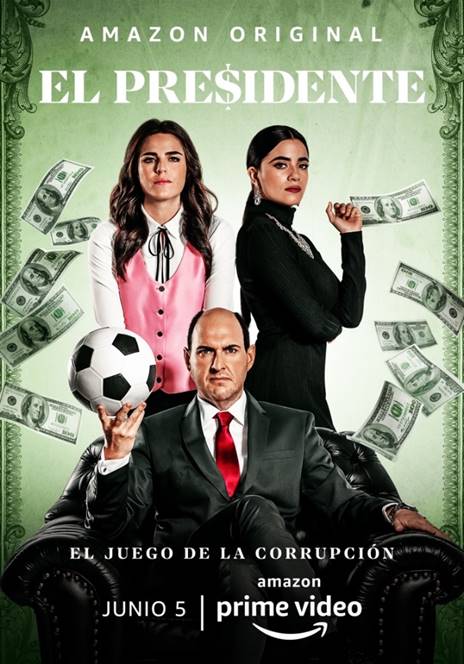 EL PRESIDENTE | 05/06/2020
Set against the backdrop of cities across Latin America, the U.S. and Europe, the series explores the sports scandal that rocked the world through the story of Sergio Jadue, a small‐time Chilean football club president who rose from obscurity to become a key player in a $150MM bribery conspiracy at the hand of the infamous president of the Argentine football association, Julio Grondona.
GINA BRILLON: THE FLOOR IS LAVA | 05/06/2020
Gina Brillon has always had a unique approach to life's ups and downs; handling them with a humour and sass that comes natural to the Bronx born Latina. In her third stand up special, 'The Floor is Lava', Brillon pulls no punches when discussing her childhood, culture and the transition from single to married life with her Midwestern husband. In the hour-long special, Gina effortlessly guides the audience on a journey of love, laughter and heart.
MAY
UPLOAD | 01/05/2020
The highly anticipated new sci-fi comedy series created by 'The US Office' and 'Parks and Recreation' producer Greg Daniels. Set in a technologically advanced future where hologram phones, 3D food printers and automated grocery stores are the norm, humans can choose to be "uploaded" into a virtual afterlife when they find themselves near-death. Be sure to check out our exclusive interview with Daniels and 'Upload' stars Andy Allo and Robbie Amell right here, as well as our review of the show here.
JIMMY O. YANG: GOOD DEAL | 08/05/2020
Performed live at the Neptune Theater in Seattle, 'Jimmy O. Yang: Good Deal' covers Jimmy's hilarious interactions with immigrant parents, his thoughts on Matt Damon, and whether ghosts will haunt one-bedroom apartments. Jimmy O. Yang is an actor, stand-up comedian, and writer known for his portrayal of Jian-Yang on 'Silicon Valley', as well as appearing in the record-breaking box office hit 'Crazy Rich Asians'.
THE LAST NARC | 15/05/2020
Cutting-edge docuseries directed by Tiller Russell features interviews with government and cartel insiders. The provocative four-part series follows the unfolding of events around the shocking political conspiracy of 1985 which involved the kidnapping and murder of DEA agent Enrique "Kiki" Camarena. By telling the story of a fallen hero, the men who killed him and the one man who risked it all to find out why, this docuseries reveals the bone-chilling truth about a conspiracy that stretches from the killing fields of Mexico to the halls of power in Washington, D.C.
HOMECOMING SEASON 2 | 22/05/2020
With a fresh new mystery and an exciting new star, Janelle Monáe, the second series finds her character awaking in a rowboat adrift a lake, with no memory of how she got there — or even who she is. Her ensuing search for identity will lead her into the heart of the Geist Group, the unconventional wellness company behind the Homecoming Initiative. The critically-acclaimed show starred Julia Roberts in the gripping first series.
APRIL
TALES FROM THE LOOP | 03/04/2020
A drama series from executive producer Matt Reeves and based on the acclaimed art of Swedish artist Simon Stålenhag, 'Tales from the Loop' explores the town and people who live above "The Loop," a machine built to unlock and explore the mysteries of the universe – making things possible that were previously relegated only to science fiction. In this fantastical mysterious town, poignant human tales are told that bare universal emotional experiences, while drawing on the intrigue of genre storytelling.
The series stars Rebecca Hall ('Vicky Cristina Barcelona', 'The Town'), Paul Schneider ('Parks and Recreation'), Daniel Zolghadri ('Eighth Grade'), Duncan Joiner ('Waco') and Jonathan Pryce ('The Two Popes', 'Game of Thrones').
BOSCH SEASON 6 | 17/04/2020
Season six of 'Bosch', Amazon Prime Video's longest-running series, is based on the best-selling novels by Michael Connelly. The series stars Titus Welliver ('Lost') as homicide Detective Harry Bosch, Jamie Hector ('The Wire') as Detective Jerry Edgar, Amy Aquino ('Being Human') as Lt. Grace Billets, Madison Lintz ('The Walking Dead') as Maddie Bosch and Lance Reddick ('John Wick: Chapter 3 – Parabellum') as Chief Irvin Irving.
In the ten-episode sixth season, after a medical physicist is executed and the deadly radioactive material he had with him goes missing, Bosch finds himself at the centre of a complex murder case, a messy federal investigation, and catastrophic threat to Los Angeles—the city he's pledged to serve and protect.
MARCH
THE TEST: A NEW ERA FOR AUSTRALIA'S TEAM | 12/03/2020
The eight-part docuseries will premiere on Prime Video around the world in more than 200 countries and territories on March 12, 2020. 'The Test' will give viewers a behind-the-scenes look at how one of the world's best cricket teams fell from grace and was forced to reclaim their title and integrity.
BLOW THE MAN DOWN | 20/03/2020
The newest Amazon Original film follows Easter Cove, a salty fishing village on the far reaches of the rocky coast of Maine. Grieving the loss of their mother and facing an uncertain future, Mary Beth & Priscilla Connolly cover up a gruesome run-in with a dangerous man. To conceal their crime, the sisters must go deeper into Easter Cove's underbelly and uncover the town matriarchs' darkest secrets.
'Blow The Man Down' is written and directed by Bridget Savage Cole and Danielle Krudy and stars Morgan Saylor, Sophie Lowe with June Squibb and Margo Martindale.
MAKING THE CUT | 27/03/2020
The highly-anticipated fashion competition series will be hosted and executive produced by Heidi Klum & Tim Gunn. In 10 episodes, we'll see a diverse group of 12 talented entrepreneurs and designers take on their biggest fashion challenge. The show will premiere two new episodes each week, culminating in an epic finale on April 24, 2020.
Naomi Campbell, Nicole Richie, Joseph Altuzarra, Carine Roitfeld and Chiara Ferragni will be appearing as guest judges.