DirectorNisha Ganatra
ActorsBill Pullman, Dakota Johnson, Ice Cube, June Diane Raphael, Tracee Ellis Ross
GenreDrama, Music, Romance
Running Time113 mins
Release DateFriday 29th May 2020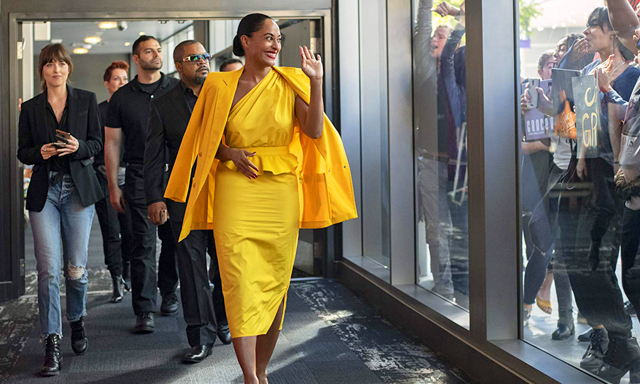 Maggie (Dakota Johnson) is used to sticking to the shadows, working as personal assistant to international superstar singer Grace Davis (Tracee Ellis Ross). But now she's ready to step into the light and start producing music, which she's always wanted to do. Grace's manager Jack (Ice Cube) is quick to squash her dreams but meeting David Cliff (Kevin Harrison Jr.) renews her hopes. Grace too starts looking at new career directions.
Those who enjoyed 'Late Night' with Emma Thompson and Mindy Kaling should expect something similar in tone in 'The High Note', as Nisha Ganatra directed both. While its predecessor looked into late night TV, in 'The High Note' you have another insight into a male-dominated industry where middle-aged women struggle to have their voice heard – even when they've proven themselves, as Grace Davis has, being an 11-time Grammy winner.
In the role of Grace, 'Black-ish' star Tracee Ellis Ross is just fabulous. Her voice is gorgeous (of course such is to be expected of Diana Ross's daughter) but even more impressive is her attitude which exudes confidence and stardom. Slightly less convincing and less charming is Dakota Johnson as Maggie – sure she knows original song writers and songs with California in the title, but as with her role in 'Bad Times at the El Royale', you struggle to buy it. She doesn't quite make the role her own and you could easily imagine an actress like Hailee Stanfield or Chloe Grace Moretz stepping in instead, so that's not great given her character takes up the most screen time.
Ice Cube brings the comedy he's become renowned for, as well as a great aura of authority as a manager. He gives a great speech about the trials of music producing and it is fun to see art imitate life, given his music background. Kelvin Harrison Jr. is very likeable too, he's been coming up and up in the last three years between the likes of 'It Comes at Night', 'Luce' and 'Waves'. Zoe Chao as roommate and supportive best friend Katie makes for another amiable character.
'The High Note' will remind viewers of 'The Devil Wears Prada' as we observe Maggie running around, collecting juices, picking up dry cleaning, purchasing piñatas for a party and more for Grace. 'Pitch Perfect' also comes to mind as Maggie's characterisation recalls Anna Kendrick's role. But there's little remarkable about the movie in its own right. Generally, it's quite formulaic. But it is also fun, sweet and easy-to-watch. It's capped off with a feel-good ending too with a very catchy number in 'Love Myself', sung by Ross, so it'll leave you with a smile even if it isn't revelatory.
'The High Note' arrives on demand on May 29th.